Several unique elements of the Aecero data center power systems enable us to provide the highest level of availability for mission-critical operations.

Anaheim Public Utilities
The Aecero data center is powered by non-profit Anaheim Public Utilities, a multi-year winner of the prestigious Reliable Public Power Providers (RP3) award. With the benefit of Disneyland as a very large and discerning customer, Anaheim Public Utilities provides a much higher level of service and maintenance than for-profit public utilities spread thin serving substantially larger territories. Our facility is served by a 12,000 volt electrical ring providing diverse paths to our five separate 12,000 volt transformers, further minimizing the risk of utility service interruption. Thanks to a more reliable public utility, the Aecero data center rarely has to rely on its emergency power systems.

2N Redundancy
In the rare occasion we do need to rely on our emergency power systems, and during routine maintenance, the Aecero data center benefits from 2N redundancy at every point in our power systems. As you may see below in the diagram of our power systems, from our utility electrical service all the way through to our power distribution units (PDUs), there are no single points of failure in our redundant electrical service.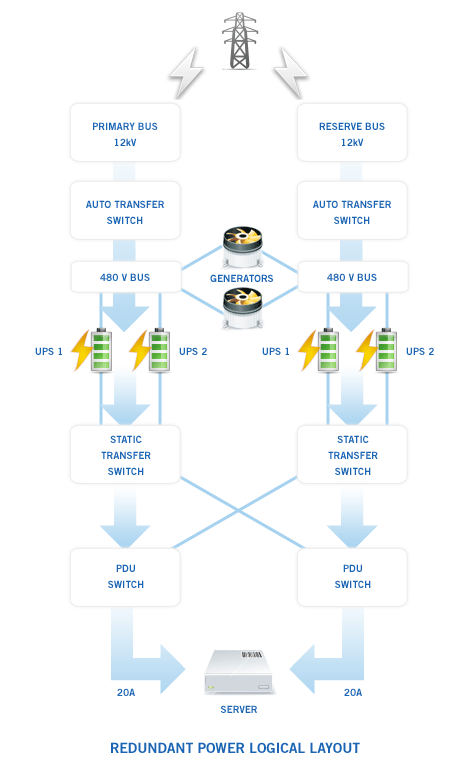 Full Load Testing
Ensuring the reliability of a mission-critical power system requires frequent maintenance and testing. Thanks to the 2N redundancy built into our power systems, we're able to perform comprehensive testing without risking a loss of redundancy to our clients. In addition our facility features a 2,000,000 watt load bank on-site. This enables us to test all critical components at full capacity, rather than simply at idle, ensuring we're truly ready to provide emergency power in the event of any failure.

Backup Power Generation
The Aecero data center features four Caterpillar 2,500kVA generators rated for continuous duty, which are supplied by multiple underground fuel reservoirs with a combined capacity of 16,000 gallons. Providing an even higher level of availability, our generators are parallelled and deliver power to a shared electrical system. As a result there is no interruption to power serving the data center even in the event of a generator failure.
The resiliency of our data center allows us to offer 100% Service Level Agreements (SLAs)! We'd be happy to walk you through the multiple layers of redundancy which enable us to provide this guarantee. Please
contact us today
to learn more and schedule a tour!